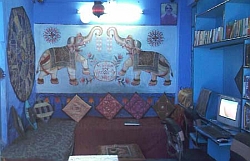 Welcome to Cosy Guest House
Cosy Guest House Welcomes you to the heart of the blue city of Jodhpur, it is away from noise & pollution at the foot of the fort it is brahmins family run guest house in the oldest, bluest part of the Jodhpur, dating back 549 years, the building has been the home of the same brahmins family since eight generations. From the romantic roof top restaurant there is the most spectacular view of the fort and blue city in Jodhpur.

Bishnoi Village Safari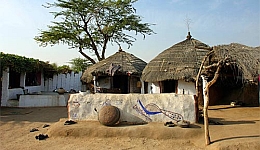 The Bishnoi's are a eco Friendly sect of Hindu religion, it is one of the different community of Rajasthan who are famous for there rich cultural Rajasthani Life and there true love for nature and animals.
We intend to show that Indian and foreign guest a glaimpse of rich cultural life around their state of Marwar, A True Rajasthan. We organize full day and half day safaris at very reasonable cost and in some ways give our sincere efforts to help the poor and needy local people in this water scarce region.
Excursion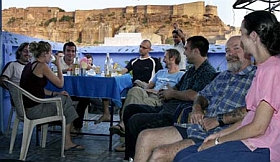 The name spells the comfort you would find at Cosy Guest House. The whole atmosphere sets you relaxing, smiling, happy & peaceful. It's like a home far away from home.
There are a number of places to see around the Jodhpur, India. Most of these Jodhpur excursions are related to the past of Jodhpur. Here we are mentioning some of the famous excursions around Jodhpur.
Camel Safari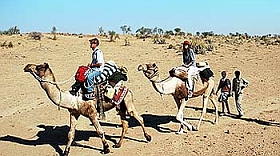 One of the best ways of exploring the Northern part of India is by going for a camel safari, which will let you to appreciate these majestic ships of the desert. The camel safaris are mainly organized to take the tourists to even those places, which cannot be reached by other things like cars or buses. It is the best thing that can take the tourists close to the tradition and the cultural aspect of the people. You can enjoy camel safari at various tourist destinations in North India. You can also feel the exotic life style of the people of Rajasthan by residing at the camps during your camel safari in Rajasthan.